Barn Quilt Graces Oasis
On August 6, the BRC community gathered at the Oasis to celebrate a beautiful new piece of public artwork on the BRC campus. It's a barn quilt created and donated by BRC Operating Board member Sally Weaver Shomo.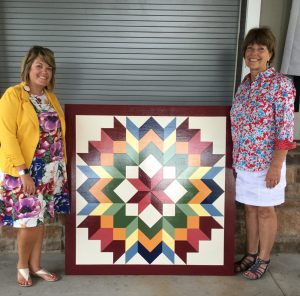 Sally says numerous of her family members have been residents through the years, and she made the gift to BRC in their honor. She recalls a great aunt who was one of the earliest residents of the Bridgewater Home building. Her grandmother lived in one of the first apartments to open in the Independent Living village. Still, when she began serving on the Board a few years ago, she found herself impressed by how much BRC has grown.
"It offers so many different services and provides residents such a feeling of community and family. It's a great experience for those who live there."
The barn quilt now hangs on the back of the Oasis building, facing the parking lot, as a beacon and grace note for BRC's most popular outdoor gathering spot.
A retired agriculture teacher and FFA advisor who grew up on a farm, Sally also owns and operates two small businesses: Shomo Fresh Market, a summer produce stand; and Sally's Custom Barn Quilts. She produces her barn quilts using weather-resistant paint on PVC boards. The one she created for BRC is number 161!