Bridgewater Retirement Community to Participate in the Great Community Give
Bridgewater Retirement Community is participating in The Great Community Give this year to support the renovation of the Meditation Garden in Assisted Living. On April 17, everyone is encouraged to go to the Great Community Give website and donate to the Bridgewater HealthCare Foundation.
We are one of several charities, causes, and nonprofit groups featured on The Great Community Give website. We hope to raise enough to make this accessible Meditation Garden a reality for our residents. For more information on this project, please see our profile on the Great Community Give website.
The Great Community Give partners with local nonprofits in Harrisonburg and Rockingham County to promote charitable giving, creating excitement for broad-based community support during a single day of giving. The Great Community Give is an initiative of The Community Foundation of Harrisonburg and Rockingham County.
Our Own Secret Garden: Our Great Community Give Project
Everyone needs a place to retreat to when they need some peace and quiet.  It is even better when we feel it is a special and secret place just for us.  For more than 40 years, BRC's Assisted Living has had such a place—the Meditation Garden.
The courtyard area outside our current team member dining room was an early project by the Bridgewater Home Auxiliary that imagined it as a Japanese Meditation Garden — a place that would be beautiful to view from residents' rooms and a place to enjoy the sun and nature.
Today, unfortunately, it no longer lives up to its original purpose, is not easily accessible for many residents, and needs reimagining.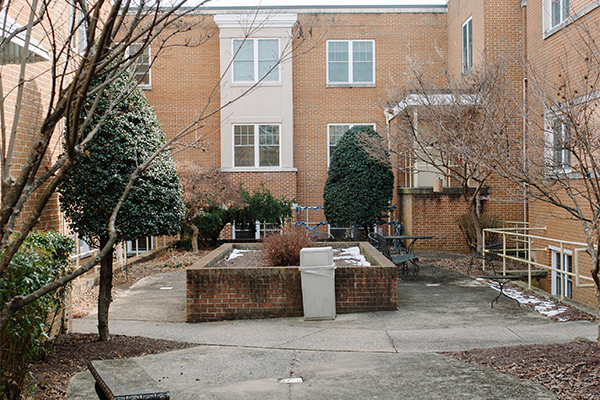 BRC is creating a wonderful new café for its residents in the space where the team members' dining room is currently located, so renewing the garden will increase the impact on quality of life for residents, team members, and families.
For this year's Great Community Give on April 17, BRC is raising funds to renovate this space with renewed landscaping, more appealing hardscaping, shaded seating, and a water feature.
The renovation will also include a deck and ramp into the courtyard so that diners will be able to sit outside to eat and have easy access to the garden area.
Click here to see the future Meditation Garden!
An initiative of The Community Foundation of Harrisonburg & Rockingham County, the Great Community Give is a powerful one-day online giving event designed to inspire and grow philanthropy in our community.
Sixty nonprofits are participating this year, with a collective goal of $333,000. BRC's goal is to engage 100 donors and raise $10,000.
Participating is easy – just log on at the Great Community Give website on April 17, click on "Donate Here," select Bridgewater Retirement Community for your gift, and fill out the easy online form. You can even schedule your gift ahead of time!
Spring and summer are almost here, so start dreaming of sun, flowers and BRC's own secret garden!