Bridging the Distance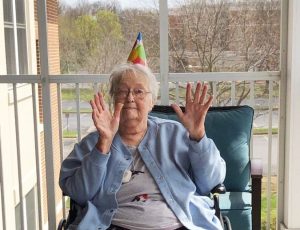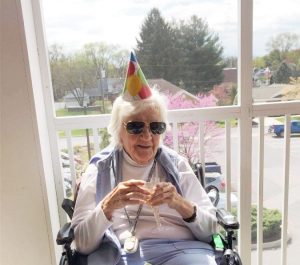 How team members, residents, and family are coming together in a time of crisis
Dianna Koepp is no ordinary resident. She worked many years at Bridgewater Retirement Community as a nursing assistant. Now, after years of providing care, she allows others to care for her as a resident of Unity House. When Dianna's birthday arrived right in the middle of the COVID-19 lockdown, she thought she would have to mark the occasion alone. But she was reminded the BRC team is no ordinary group of people.
The CNAs working that Saturday decorated the porch and baked cupcakes with the other residents. They brought Dianna out on the porch and shouted "surprise!" "The look on her face was priceless," recounts Cindy DeLoach, LPN, Clinical Coordinator at Unity House. The whole household couldn't join the surprise party because of social distancing rules, but the regular friends at Dianna's meal table joined the team members in person – six feet away, of course.
---
Technology makes celebrations possible
How do people stay connected in a time of social distancing? That's a thorny question, but one that resonates at BRC – especially in the nursing households, where team members and residents live and work closely. "I'm not going to lie. It's been challenging," says DeLoach. "Your once-huge gatherings like bingo can't happen. You have to break down the gatherings into smaller groups."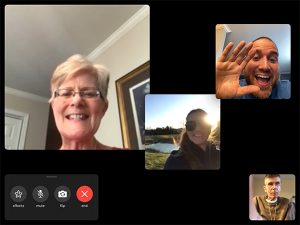 The distancing has been especially hard on family members. The nursing residents are among the most vulnerable, so children and even spouses are temporarily prohibited from visiting even if they reside elsewhere at BRC. The teams have turned to technology to bridge the gap. According to Krista McKean, LPN, Clinical Coordinator at Joy House, the team sets up iPad FaceTime calls to spouses several times daily. "They used to visit several times a day," she says. "Now it's hard. Being able to see one another is something they get really excited about. It puts their minds at ease."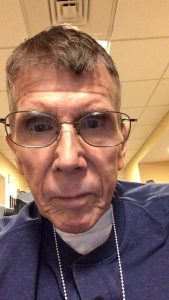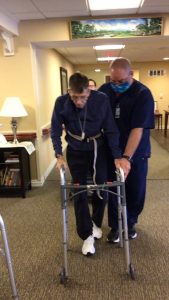 The teams have used iPads, FaceTime and other video calling services to connect residents with each other as well. Unity House staged an online Easter Party, which they combined with a teammate's baby shower. The household also used FaceTime so family members could be with a resident as he went through rehab. This resident broke his hip, and his wife became very emotional watching him walk down the hall for the first time since his recovery. "She was very teary watching him, and he was tickled she could see him walk," recalls DeLoach. "It was a special moment and it was great to be a part of it." (For more on this couple's experience, check out this Daily News-Record story.)
---
Team members bring their best
Technology helps, but the human touch is still needed. This is especially true for seniors, who can be prone to isolation. Fortunately, BRC's teams have come through. The number of team members calling out has reached record lows since the crisis began. "I really see people stepping up and going the extra mile," observes Michelle Hartman, Unity's Household Coordinator.
For example, with BRC's beauty shops closed, team members are doing their best to fill the gaps. "We're calling on any cosmetology classes we took in high school," says McKean in Joy House. Her team curls hair and paints nails, although she says no one is confident enough to attempt a coloring. "It's a big deal to the residents. It makes them feel good."
---
Honesty is the best coping mechanism
Health care professionals are under major strain during this time. That includes the team at BRC. How do they manage? "I try to stay focused and communicate updates quickly and try to answer questions from the residents or team," notes McKean, who says information and transparency are key. "We do our best to reassure, but honesty is more important so the rumor mill can't start. When we get information, the residents have it. It lets them know we're right there with you."
And while there is stress, McKean has noticed a strengthening of bonds. "Honestly, I feel like it's brought us closer together," she says. "The teams have been taking extra care of residents and making masks for one another." This solidarity extends to residents' family members, who have sent the team gifts of food and letters of appreciation. "They want to let us know they're thinking and praying for us. You can't ask for better than that."