Construction Update – June 2018
The rain this past 2 weeks has been challenging at times. It's nice to have a sunny day to enable the construction crew to make some progress.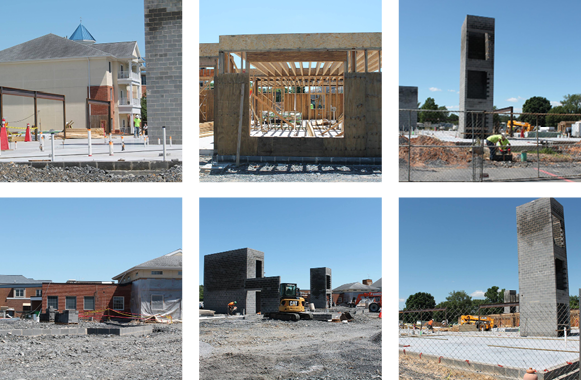 No complaints though from Nielsen Construction Corp or their subs. We have a meeting next week with architect, engineering team and contractors to go over the schedule and upcoming events. Cabinet samples are in for the Grove residents and are being reviewed by Marketing. Partners Excavating Co. has been working on the new high-pressure water line that will help us with fire suppression as well as domestic water issues we have had in the past. Our progress is going well.
GROVE NORTH TOWER:
1st-floor framing is completed; plumbing electrical in walls started
Steel columns/beams set over garages to carry 2nd and 3rd floor
Grease Trap set for garages
Combination elevator shaft/stairwell in place
GROVE SOUTH TOWER:
Concrete pad completed
Began securing the bottom plates for walls in place
Elevator shaft in place
Stairwell in place
BISTRO:
Footers and block walls in place.
Smith room bracing in place to demo exterior walls
In-ground plumbing electrical in process
Assisted Living:
Footers completed
Block walls nearly completed
Support columns and beam in place for building tie-ins
In-ground plumbing and electrical in process
3rd floor Wampler has been cleaned out for renovations that being on the 5th of June.
Dining for 3rd-floor residents is combined with the 2nd floor in that dining room.
One of our residents commented today that our construction site reminds her of little boys playing with their toy trucks and diggers. It's not hard to appreciate that remark when little boys are coming by to see our construction project with their dads and granddads. One set makes regular trips each week to see the "big diggers."