Custer Dining Room Re-opens
As November 12—the date set for the re-opening of BRC's Custer Dining Room in its Houff Community Center—approached, anticipation built throughout the community. That Tuesday evening was cold and blustery, with a sharp wind bringing temperatures that would plummet into the teens later that night.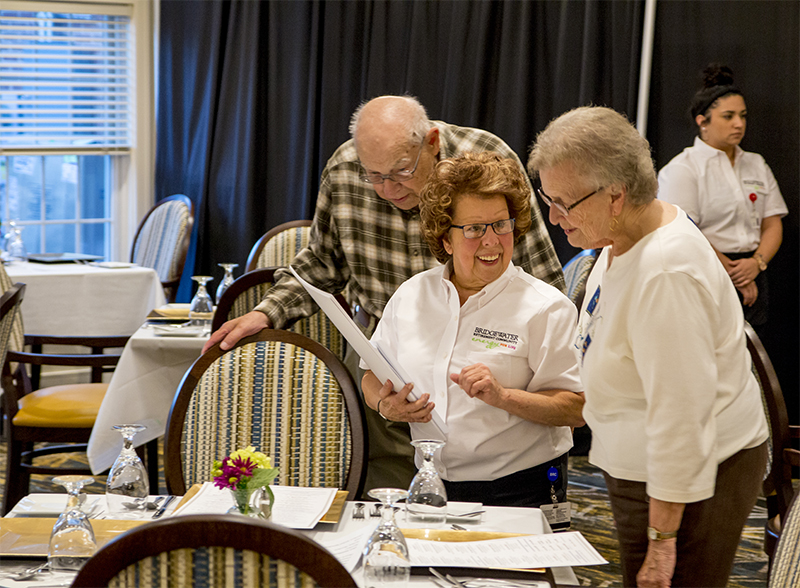 Still, many guests from throughout the BRC Village braved the weather to be among the first to experience the new Custer Dining Room. Those who live in Maple Terrace rejoiced that they could take the short elevator ride to the first floor without having to brave the elements. Regardless, they reported that being there on the first night was well worth the trouble.
The overall feeling was one of welcoming, elegant comfort. There was the physical renovation, with fresh paint, new blinds, and expanded space. The blue, ivory, and gold patterns of cushioned chairs and carpeting were both energized and calming.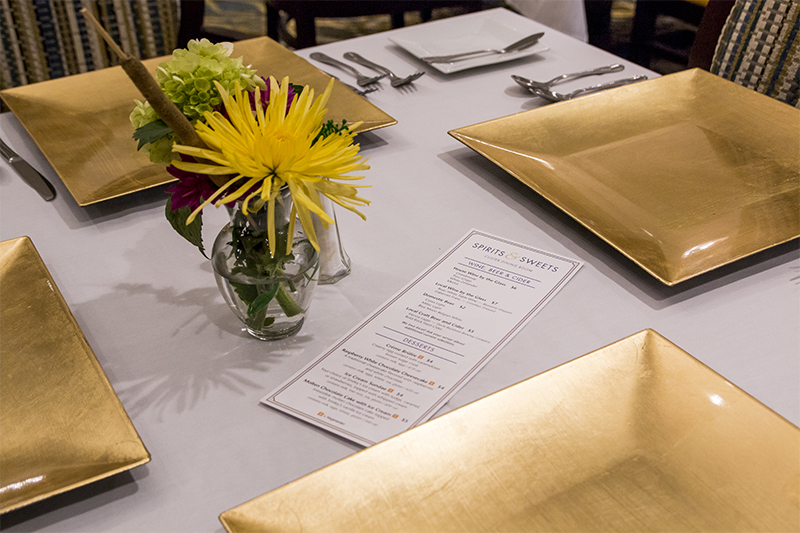 Servers, wearing crisp white shirts embroidered with the BRC logo, greeted residents with the same love and recognition as always. Fresh flowers adorned each table along with white linens, gold chargers, and contemporary porcelain dishware.
The new restaurant-style menu developed by Executive Chef Mike Greczy and his team, professionally designed and printed, laid out the new offerings. Live music was provided by Daniel Over on the harp, and it was obvious that the room's acoustics had improved as well.
The doors were scheduled to open at 5 pm for dinner service, and eager BRC residents started arriving about a half-hour early. Because of thorough advance preparation, the dining team was ready and decided to begin service about 20 minutes early to accommodate the early birds.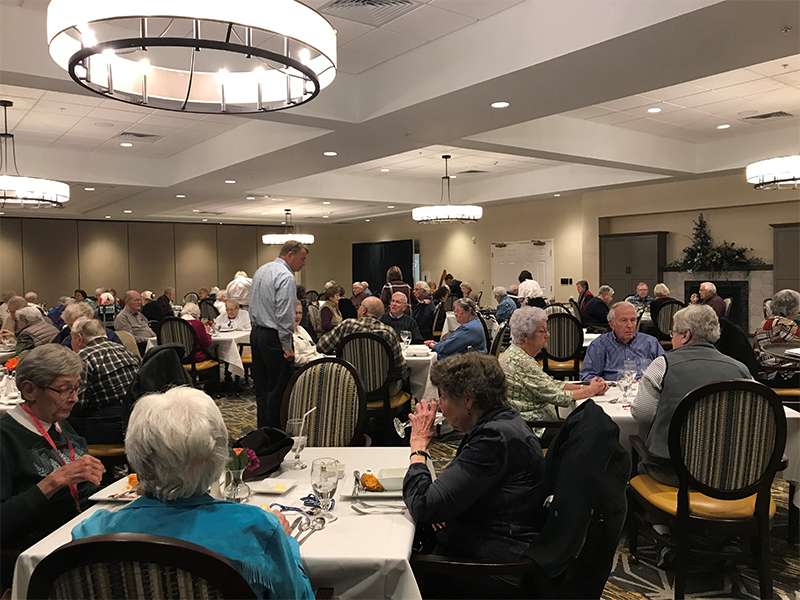 There was a steady stream of arrivals throughout the dinner hour, with 82 people served on that first evening. Vice President for Independent Living and Assisted Living Sarah Hagan was on hand to greet diners and offer complimentary beverages—sparkling cider, wine, beer, or local hard cider—as a special opening-night treat.
Among the favorite entrees was the Mile High Meatloaf, served on a bed of whipped potatoes and topped with crispy onions. Other popular items included bacon-wrapped filet mignon, rosemary pork chop, and deconstructed shepherd's pie.
Various seafood and chicken options along with the Southwest flank steak salad offered lighter yet quite satisfying options. For those who had room for dessert, there were several options: luscious crème brûlée, decadent molten chocolate cake, raspberry-white chocolate cheesecake, and a sundae made with local ice cream favorites from Smiley's Ice Cream right down the road.
In the coming months, the Custer Room dining experience will be complemented by two new dining venues at BRC.
The next to open, early in 2020, will be the Junction, BRC's new casual dining venue located in the new connector between Assisted Living and the Houff Community Center. With a pizza oven, action stations, salad bar, and a wide array of sandwiches it is sure to be a hit. Immediately adjacent will be the Nook, offering specialty coffees, smoothies, and snacks.
Finally, the Gardenside Diner will open later in 2020 providing all-day breakfast and other diner favorites.