Donor Spotlight: Cindy Tusing on the LiveWell Campaign
Veteran Board Member's Support Enables BRC to LiveWell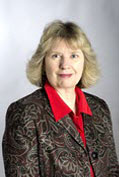 A longtime banking professional in the Valley, Cindy Tusing kept hearing about great experiences at BRC from her clients. She even visited a few of them on campus. She had connections to family members who had lived at BRC early in its history, and many conversations with President Rodney Alderfer and other members of the BRC leadership team about the resident-centered culture and their vision for the organization.
When the opportunity came up to join the Foundation Board of Directors in 2010, Tusing knew she was ready to be involved in a more direct way.
"I've always been impressed with their commitment to helping residents live their best lives, even when that means doing things that aren't typical in that setting," says Tusing, Vice President and Trust Officer at City National Bank in Staunton.
She is grateful to have been able to contribute to every fundraising campaign since becoming a Board member, and is looking forward to the enhancements included in the current LiveWell Campaign.
"I know that BRC will continue to look for ways to enrich the experiences of residents and team members with opportunities to connect and grow," she said.
What does it mean to you to "live well"?
To live well is to be able to make time for the things that we enjoy each and every day. For me, that includes interacting with and being invested in the lives of my clients at work and enjoying time with my family, as well as playing with my cat, gardening, piecing together puzzles, shopping, and traveling.
What I love about BRC is that they are set up to give residents as much control as possible over their daily routines. They are not told when to get up and eat their meals, but have the freedom to decide when to do things like that while making time for personal enrichment and enjoyment every day.
Why were you inspired to give to the LiveWell Campaign?
I believe in the mission of the Foundation and want to support the residents. I am glad I have been able to support each of the campaigns since joining the board.
I was particularly impressed with BRC's response and communication during the pandemic. The team's caring nature was demonstrated in their dedication to keeping everyone safe while still doing their best to maintain residents' quality of life as much as possible. When the chance came up to donate, I was happy to recognize those efforts and help take BRC to the next level.
Which of the LiveWell Campaign priorities are you most eager to see come to fruition?
I made a general donation to the campaign, to be used wherever it is needed most. I trust the personnel there to direct funds to the most critical areas.
I am excited about the Work Well Fund piece of the campaign, which supports team member wellness and development. We are so fortunate to have team members at all levels of the organization who are hard-working, committed, and always looking for ways to improve the experience of residents. It is important to support them with opportunities for professional training, financial assistance if they have a need arise, and programs that will encourage them to focus on their own well-being.
How do you inspire others to donate to BRC?
It does not matter how much money a person donates to BRC; it is all greatly appreciated and well-stewarded. When I give to BRC, I am confident that the funds will be used in the best way to continue to enhance the lives of residents and team members.
I have been privileged to see the kind of impact campaign funds can make in each of the fundraising efforts I have supported. One that stands out to me in particular was the Advancing the Vision Campaign. Seeing the major changes that could be accomplished in Nursing was very encouraging.