Grove Construction Update: Model Apartment Now Open
While much of the Grove, BRC's new Independent Living apartment building, is still very much a hardhat zone, one corner of the first floor gives an impressive glimpse of what it will be like when finished.
The model apartment—a corner unit with 1,510 square feet and the Rome floor plan—has two bedrooms, two bathrooms, two walk-in closets, and a separate laundry room.
Extra-large windows and the French doors to the screened porch admit lots of natural light. Bedroom, living room, and dining furniture are in place to help future residents envision how their own belongings might look.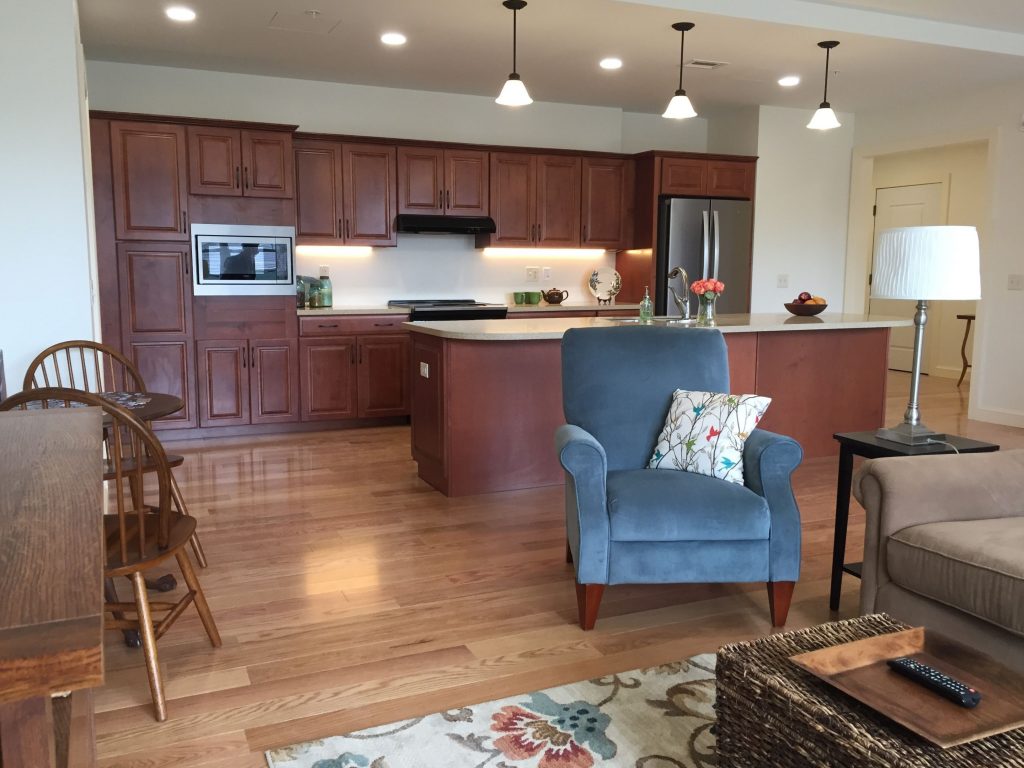 On April 2, Future Grove residents became the first to tour the apartment and enjoyed a glass of sparkling cider or champagne while they mingled with future neighbors, exclaimed over the spacious living area and elegant kitchen, admired the large windows, and examined the extra-large walk-in closets.
Those who have already reserved their apartments were overheard to exclaim "I can hardly wait!"
Of the 34 apartments, only eight have not yet been reserved. Individuals and couples who are interested in moving to the Grove can request a private tour to see for themselves what the next generation of retirement living will feel like.
Those attending upcoming information sessions—April 24, May 11, and May 22—will also be able to tour the model apartment. To find out more, call 540-828-2550.
While move-in dates are not yet set, current projections from the construction company are that the Grove will be ready for occupancy in September. By that time, BRC's new bistro will be open for casual dining with outdoor seating and a variety of scrumptious fresh-made options including pizza, sandwiches, and stir-fry.
In addition, the more formal Custer Dining Room will soon be closed for renovations. It will re-open with a refreshed menu later this year.
Did you know? The name of the building and the individual floor plans pay tribute to the Shenandoah Valley's agricultural heritage, in particular, the apple groves that used to be so prevalent here. Each floor plan is named after a variety of apple: Cameo, Liberty, Cortland, Baldwin, Breeze, Rome, Braeburn, and Empire.