"Nothing Undone"
One family's experience of love and support in a BRC nursing household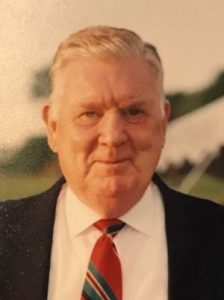 "My dad was a character," says Lynn Hoy of her father Cecil Gilkerson. Cecil, who moved to a BRC nursing household in late November and died in early January, was a well-known figure in Harrisonburg. He founded the city's Parks and Recreation Department in 1954 and served as the department's director until his retirement in 1990.
Like many, he wasn't entirely keen on spending his final days in a nursing home. Lynn recalls having to convince him to give it a shot. "Just go out there and stay for a while and see how you like it," she remembers telling him. "If you still want to come home, we'll figure it out."
Cecil ended up "never having a negative thing to say" about his time at BRC, according to Lynn. She and her husband Tom knew BRC had a reputation for stellar care, but it wasn't until December that they experienced it first-hand.
They attended a Christmas dinner prepared by the Wellness team for residents and their families and were amazed to discover that a team member had made a gift for Cecil—a Boston Red Sox quilt for his bed. "It was just beyond what we could have imagined," says Lynne. "It was just really touching."
Lynn and her family had arranged medical transport so that Cecil could spend some time at home on Christmas Day. They planned to have just about two hours—enough time to hand out stockings and enjoy a little bit of company together at home.
But they knew that would not allow for the family to eat Christmas dinner with him, so they reached out to see if there was any way BRC could help. The nursing household team members found an available space on campus large enough to accommodate the entire family for dinner, and they even decorated a Christmas tree for them. The whole family was able to gather and enjoy Christmas dinner together.
"They take care of the resident's family just as well as they take care of the resident," says Tom. "They think of so many things that we wouldn't think of. When he was getting ready to pass, they even brought in a tray of fruit and drinks. They just do everything for you. They leave nothing undone."
Lynn woke up one morning in January with a feeling that something had changed. She remembers spending the day, the only snowy day of the year, at his side and being touched by the outpouring of love from team members. "I'll never forget this. As the team got off all night, they all came in and told him goodnight because they knew he wouldn't be there the next day."
It's this type of love and support that they experienced that helped make all the difference. "It's just a tremendously positive experience the way you do your job out there," says Tom. "We just can't explain how special it was," adds Lynn.
Perhaps the most telling testament of the love and care he received came from Cecil himself. Although he had written his obituary many years prior, he specifically instructed Lynn and her sisters to "be sure you put in there that I died at Bridgewater [Retirement Community], because that's where I had chosen to be."
You can help support BRC's mission to enhance energy and zeal for life by making a contribution to the Bridgewater HealthCare Foundation. Your support helps ensure that residents who exhaust their financial resources are never asked to leave their home.