Sometimes wellness involves screen time
Bridgewater's Director of Well-Being & Engagement explains her holistic understanding of wellness
BRC's Independent Living team had a vision for BRC's seniors, and it involved iPads. Laura Spicer was one of the first people called upon by Sarah Hagan, Vice President for Independent and Assisted Living, to help turn that vision into a reality.
A little over one year ago, Laura took on the newly-created role of Director of Well-Being & Engagement. It may be a lofty title, but Sarah knew that the approach to wellness should be comprehensive and integrated. A nutritionist by training, Laura has a holistic understanding of how interconnected all aspects of wellness are … and how also how interconnected wellness is within various segments within the community. That means she focuses on physical, mental, and social wellness for everyone at Bridgewater—residents and team members alike.
One of Laura and Sarah's first moves was to bring the fitness team in-house. Previously, staffing of BRC's fitness center had been outsourced. "We wanted to make the fitness program our own," she explains. "We thought about what would be most energizing and holistic for our own residents." Some new team members were already familiar with the residents, while others brought fresh ideas and expertise. They also brought relevant experience and training, with some of the exercise physiologists having Master's degrees
The fitness team offers classes and one-on-one programming. In addition to group fitness classes, such as the popular BAM (balance and mobility) class, any resident can request personalized instruction. "We have residents who want better balance or something as basic as getting out of their chair more easily," Laura says. "We meet everyone where they are. We have one resident who's training for a marathon!" There are group fitness classes all over BRC, including in the assisted living, memory support, and nursing communities. They work closely with physical and occupational therapy team members to tailor physical wellness to each individual.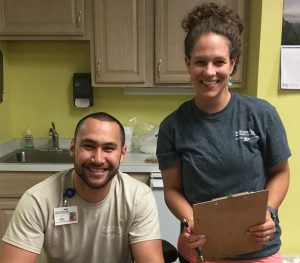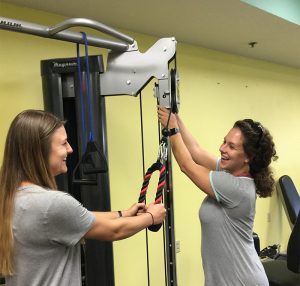 Because physical wellness is only one part of the equation, in August 2018, BRC launched a wellness initiative around a mobile app called Wellzesta. This is where the iPads came in—each resident received one so they could access the app and track wellness goals and progress, find out about events and news, engage more fully in the community, and communicate with one another. While some might have been skeptical of seniors embracing technology, Laura and Sarah had unshakable confidence in BRC residents. "They were nervous at first, but at the one year mark, everyone is excited about it," she remarks. "It's become a personal motivation tool for wellness and engagement. Nobody wants to miss out!"
Laura recounts one anecdote where a resident wanted to introduce her to his sister. Expecting it would be an in-person visit, Laura was surprised and delighted when he used FaceTime on his iPad. Other residents have used FaceTime to watch great-grandchildren's graduation parties. The residents' ready willingness to explore new technology excites Laura: "There's lots of positive energy around this, and it's amazing to see people embrace things you wouldn't expect."
This attitude encapsulates the wellness philosophy of BRC as a whole and Laura as an individual: give people the opportunity, and they will explore it as far as they want. She is looking forward to the renovation of the fitness center and possibly new equipment that will interface with Wellzesta, creating even more opportunities for residents to track their progress and goals. When asked to summarize how the iPad initiative fits in with her goals, Laura's summary is succinct: "This app has really helped us read our residents' wellness needs in all respects—physical, mental, and social."