Symposium at BRC Gathers Leaders to Address Needs of Aging Community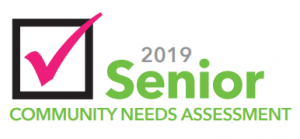 Bridgewater Retirement Community (BRC) and Valley Program for Aging Services (VPAS) today hosted a variety of civic, non-profit, and community leaders at BRC's campus to present the findings of the 2019 Senior Community Needs Assessment and spark conversation on a path forward to addressing the needs of the Valley's aging community.
The segment of adults age 75+ is growing twice as fast as other households in the Shenandoah Valley. Last year, BRC and VPAS partnered with Holleran, an independent consulting and research firm, to conduct the assessment which looked specifically at the needs of the older adult population in Harrisonburg City and Augusta and Rockingham Counties. The key findings identified significant challenges that face the community, including lack of access to affordable housing, social isolation, and health care navigation.
"We've known that there are real issues facing this community," says BRC president Rodney Alderfer. "Now that we have real data that specifically identifies those challenges, it's up to us to come together and do something about solving them. That's why we hosted this symposium, and it's why we'll continue to encourage our community partners to do their part in making our community more aging-friendly."
Presenters included LeadingAge Virginia president Melissa Andrews, Holleran Consulting president Nikki Rineer, and Westminster Canterbury of Richmond foundation officers Leota Parandeh and Anita Adkins. After the presentations, discussion groups broke out to reflect on the key findings and brainstorm ways to respond to the results.
"Together we can meet the challenges that are facing us as we grow older," said LeadingAge Virginia president Melissa Andrews. "The key is that we have a collective purpose around that."
The results of the study will be presented to the public at the State of the Older Adult Community Conversation on April 20 at James Madison University's Festival Center Ballroom. Registration for that event is free and available online at www.vpas.info.