Three cheers for volunteers
It's no secret Bridgewater Retirement Community is extremely blessed with amazing people, including energetic residents, dedicated team members, and amazing volunteers. Sadly, with the campus access restrictions in place, we have not been able to welcome our volunteers on site. But that isn't stopping the volunteer spirit from energizing BRC.
On-campus volunteers step up
Laura Powell is BRC's Coordinator of Volunteer Services, and she doesn't just coordinate visitors from off-campus. "We have a big group of residents and team members who volunteer," she says. And these "inside" volunteers have found creative ways to support residents. For example, residents, community volunteers like the Sew Caring Stitchers from Bridgewater United Methodist Church, and team members have sewn masks and isolation gowns for team members, with total donations amounting to over 1000 masks and 75 gowns.
Technology allows virtual volunteering
Off-campus volunteers have also found creative ways to continue making their presence felt. One shining example is Dottie Little, who leads a reading group for Assisted Living residents.
"It was heartbreaking for her not to come in. We knew her reading group would miss her," says Powell. So, Dottie takes advantage of a large-screen TV and interacts with her group remotely. "It's amazing we were able to set up an opportunity to do this via technology!"
The same technology can be used for videoconferencing, as well as piping in audio and video from other willing volunteers. A young pianist who has previously played concerts in nursing households recorded a 30-minute performance, delighting residents with a virtual concert. Powell says they will also use technology to connect school-age volunteers with residents.
"Every summer, we normally have thirty high school students providing 2,400 hours of volunteer services. This year, that volunteering will be virtual." She says the students will still be instrumental in writing letters and building relationships with residents through video chats.
Community Connections channels creativity to bring joy
But it's the good deeds that our on-site volunteers have done for people outside Bridgewater Retirement Community that really gets Powell beaming. A group of residents and team members called Community Connections traditionally hosts events like dinners at homeless shelters and benefit meals for the rescue squad.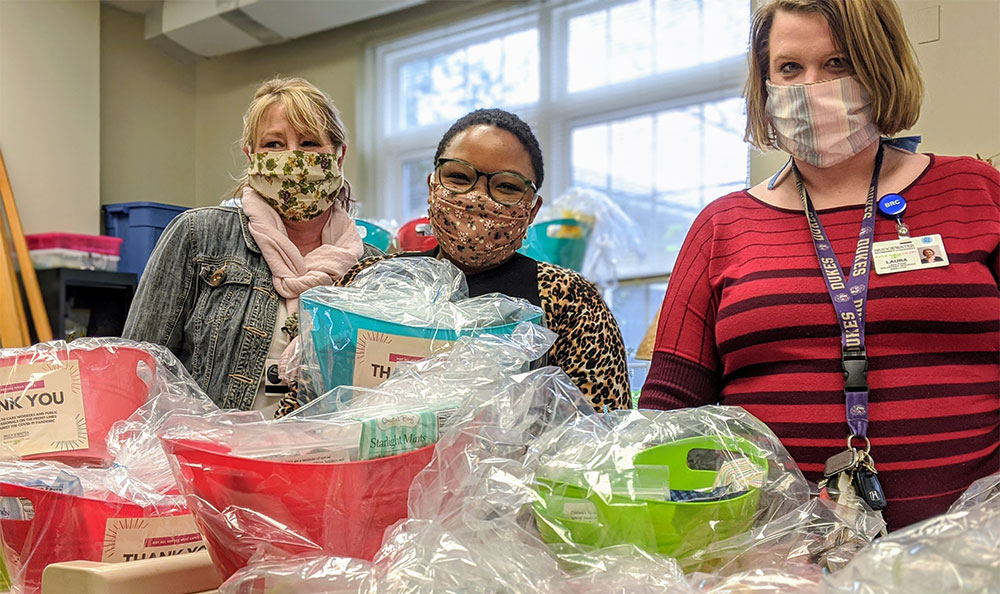 "This year, we can't do these things with COVID-19 around, so we try to think outside the box." Their solution was a program called Hometown Heroes. "The Community Connections team made care baskets for 33 different organizations and others who are open and serving us."
Community Connections distributed baskets to grocery store workers, postal carriers, waste management workers, local restaurants, and first responders. The baskets contained sweet treats, along with gift certificates to local businesses. In addition, residents from the Village and Assisted Living wrote cards with messages of thanks.
Reaching out and meeting needs
Laura Powell has seen firsthand the generosity the community has shown BRC residents, so she's heartened we can give back.
"We have so much support, but we know there are still needs out there." Powell notes that in addition to residents and team members providing masks for one another, they reached out to other senior communities and nursing homes to offer PPE and help.
"We aim to be an asset in our region," says Powell. "We don't want to just be 'that retirement place,' but a real community partner."