'Tis the Season at Bridgewater
Ho ho ho! The holiday season is upon us! And here at Bridgewater, the festivities have already begun. Bridgewater Retirement Community has many longstanding holiday traditions to bring light and joy to midwinter. As usual, our people and families are at the center of all of them.
Decking the Halls
The first can't-miss sign of the holiday is a 24-foot tall Christmas tree. We raised the tree on November 30 in the Oasis, a process that took two and a half hours. (We don't feel a need to wait until December to get in the holiday spirit!)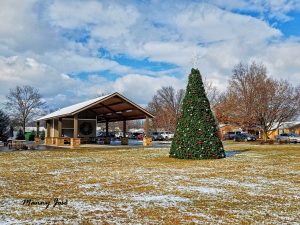 On November 30th, the whole community turned out for Grand Illumination, a Christmas tradition here at Bridgewater. In the week leading up to the event, volunteers passed out battery-powered candles to every Village house. On the big day, we threw the switch and lit up every window in the Village, assisted living, the Huffman center, and quite a few office windows, too. A brass quartet provided festive holiday music, and Santa and Mrs. Claus ushered in the official beginning of Christmas.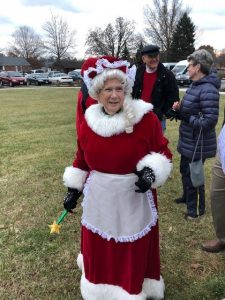 The town of Bridgewater held an amazing Christmas parade, and it started here at Bridgewater Retirement Community. On December 1, more than a hundred floats lined up and paraded through our campus, bringing delight to our residents. We are grateful to Bridgewater Foods for making us an honored part of this joyful event.
Christmas is first and foremost a celebration of the Nativity, so residents and team members gathered in the chapel on December 2 for the Lovelight service. This event is another perennial tradition at Bridgewater, and 2018 marked its thirtieth anniversary. The Village Choir joined a local children's choir to sing hymns and carols, and Lovelight Fund donations will benefit our Resident Care Endowment Fund to help residents in need.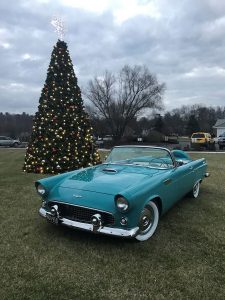 Nothing sparks holiday cheer like music. The Village Choir performed their annual Christmas concert on December 7.
December 9 was the date of our Open House in Houff Community Center in Maple Terrace. Music, hot chocolate, and other refreshments provided welcome warmth and cheer on a very snowy afternoon. The seventeen Christmas trees and other festive decorations will delight visitors through the end of the year.
The Season for Giving
Like music, family is a vital part of the holiday season. So is giving. Christmas is the perfect time to reflect on our Mission: "Promoting an engaging lifestyle within our compassionate community." We're reminded of this the many times volunteers from the greater Bridgewater community visit us. We're hosted church groups, students, carolers, and the Salvation Army—bringing flowers, smiles, and outpourings of cheer to our residents and team members.
This grace is what makes our emphasis on compassion and giving so important. As the year comes to an end, we encourage everyone to consider giving to our Resident Care Endowment Fund. Bridgewater Retirement Community is committed to keeping residents in their homes, and this fund helps residents in need. For example, longer life expectancies and advanced health care means that almost 30% of nursing care residents here require some assistance. Your gift can help someone in our community. So please consider giving this season.
We are grateful for the generosity and compassion of everyone in the community year-round. Christmas is a wonderful time to magnify that gratitude.