Volunteer Spotlight: Brett Jones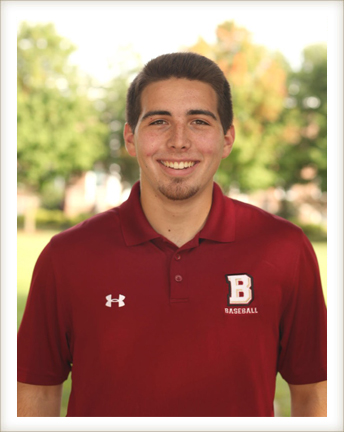 Brett Jones is a senior at Bridgewater College, a baseball player, a business administration major … and a big reason why so many residents at Bridgewater Retirement Community have had the opportunity to build friendships with college students. With the college's campus adjacent to BRC, and both organizations affiliated with the Church of the Brethren, the connection is a natural and longstanding one. For the past few years, Brett has helped to make that connection a continued reality on the personal level.
As president of the Student Athlete Advisory Committee, Brett works on several fronts to connect student athletes with the community, enhance their college experience, and foster their personal development. Organizing events with BRC residents accomplishes all those goals. It's also a lot of fun for everyone concerned.
The next joint BRC-BC event, a "tacky Christmas sweater party" on December 2, will feature cookie decorating, yummy hors d'oeuvres, and lots of fun. About 80-100 are expected to attend with about equal numbers of student athletes and BRC community members.
"For us, it's a great opportunity to hear interesting stories and understand life from a different perspective," Brett comments. "College is hard, and this is a chance to learn from people who have been through difficult times and can provide valuable advice."  The fact that quite a few BRC residents are BC alumni is an added bonus.
Another organization that Brett is involved with is the Fellowship of Christian Athletes. He sees a connection between playing his sport, serving the Lord, and serving others.
After he graduates, one of the memories Brett will cherish most is from the first joint event he helped organize. "Some of the athletes are quiet," he remembers, "and mingle sessions can be kind of awkward at first." But the athletes opened themselves up to the experience, and soon the room was full of laughter and smiles. "It ended up being the quickest hour and a half I've ever experienced."