Volunteer Spotlight: Catie Deflumeri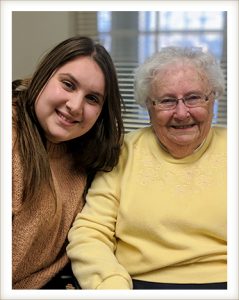 Catie Deflumeri didn't expect for a volunteer opportunity to turn into an enduring intergenerational friendship, but that's precisely what happened when she came to BRC to help resident Phyllis Arbogast learn to operate a new iPad.
A junior at Bridgewater College, Catie was looking for a new way to fill time after pulling back from the school's swimming team. As a family consumer science major, she knew she wanted to do something with people and reached out to BRC to see what volunteer opportunities might be available. That's when she got connected to Phyllis, who was struggling to learn how to use her new iPad and BRC's wellness app, Wellzesta.
They've met at least once a week for over a year, turning Phyllis into quite a pro. "At first, I was afraid I was going to break it all the time," recalls Phyllis. The Wellzesta app allows residents to connect, see daily and upcoming events on campus, check dining menus, and explore wellness articles. "It's a good thing," says Phyllis. "Keeping everybody informed—I like that a lot."
But the friendship shared between Catie and Phyllis has gone far beyond iPads and wellness apps. "Phyllis is my girl," says Catie. "She's one of my closest friends now, and I feel like I can tell her anything."
"What we say here, stays here," adds Phyllis. "It's like a girl group. And at my age, I never thought that would happen."
Catie says it's the little moments that make their friendship special and deepen the connection between them. "This has really impacted me in a way that I didn't think it would. I'll have a hard day, and Phyllis will call me to hang out—and that's what it is—we're just hanging out."
Catie graduates next year but has already promised to face her fear of Interstate 81 to visit Phyllis when she's no longer just down the street. With or without the iPad, it seems this friendship will carry on.