Volunteer Spotlight: Phyllis Arbogast
By Lev Norford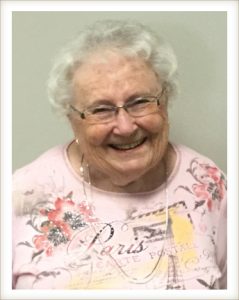 "O Happy Day" is not just a frequent motto on Phyllis Arbogast's lips. Those of us who know her, know she lives this motto, always looking for the best and working to recognize and make joy-filled moments for others.
In November Phyllis will celebrate her four-year anniversary of living in Bridgewater Village, and she says, "I have loved every minute of it. I just love it here." Before moving here, Phyllis and her family lived in Harrisonburg. She worked at First National Bank/Bank of America in Harrisonburg and then worked for 26 ½ years at the Green Valley Book Fair before retiring. She still fills in on a daily schedule for employees to take lunch breaks.
"No" does not seem to be in Phyllis's vocabulary. She volunteers in Cottage Gifts (the Bridgewater Home Auxiliary's wonderful gift shop in BRC's Administrative Center) twice a month, and also at The Barn (the Village Residents Association's famous yard sale venue). She even had the good grace to agree to throw out the first pitch at a high-jinx whiffle ball game between BRC's senior leadership and other team members during BRC week back in June.
Phyllis really enjoys the people at BRC and is surprised at how many re-acquaintances she has made in the Village. "I just start talking to people and suddenly we realize we were connected in some way before we moved here. That is fun." She has enjoyed connecting with college students, working with them, and is grateful for their help with Wellzesta.
Phyllis would love to take part in even more activities and trips. She is an ardent Washington Nationals fan and loves watching baseball games. (She must be thrilled that her beloved Nats have won the National League pennant!) She also loves watching college basketball. She enjoys her family. She can always fit them in between her other busy activities.
Although she admits to having a down day now and again, Phyllis is just the kind of person everyone wants to meet on a gloomy day. Her radiant smile and positive outlook will surely improve your outlook. If you see her car with the license plate "1 Happy Day" be sure and wave! Thank you, Phyllis, for all you do to bring sunshine to our lives.