Volunteer Spotlight: Roma Jo Thompson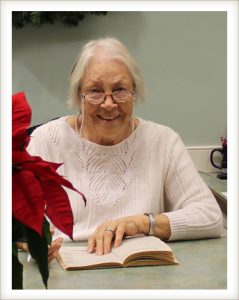 After decades of service to others in the U.S. and around the world, no one would have faulted Roma Jo Thompson for giving it a rest and focusing only on herself in her retirement. But that's not who she is. Having joined Bridgewater Retirement Community in 2007 with her husband Jan, Roma Jo volunteers for the BRC front desk in Maple Terrace and also serves as a member of BRC's library committee.
Roma Jo met her future husband Jan Thompson in 1954 during their orientation for the Brethren Volunteer Service. They spent their married life working side-by-side in service to the Church of the Brethren, to their communities, and to people throughout the world. Together they served stints in Nigeria, Kenya, and Sudan. Jan was the first full-time director of Brethren Disaster Ministries and later launched Children's Disaster Services.
On her own, Roma Jo went on a four-month mission to Somalia, and she also led Children's Disaster Services as director for four years.
Today, Roma Jo is as vibrant as ever, loving life and making a difference for other people. In addition to volunteering, she enjoys spending time reading. She has also fostered a very special friendship with first-grader Savannah Hagan and her sister Madelyn, both daughters of BRC Vice President Sarah Hagan.
Look for Karen Doss Bowman's in-depth story on Roma Jo, including her very special relationship with first-grader Savannah Hagan, in the upcoming issue of BRC's The Bridge magazine.